Do you want to cut out a perfect plate of meat at the party? This slicer is a very suitable and unique present.
This handcrafted profession Wooden slicer & Cheese Slicer is worth a look. It has a beechwood body and a serrated stainless steel blade. It can be used to cut sausage, bread, and veggies.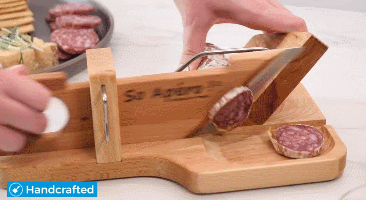 Unique Slovene salami slicer for slicing salami or dry-cured meat is handmade and covered with edible virgin oil. The blade is made of stainless steel.
It is almost indispensable in any wine cellar where people enjoy a glass of good wine with nicely sliced homemade salami.
The design of this salami slicer goes back to the 19th century and was originally made in the vicinity of Sevnica – Slovenia.
This beauty can be a great decoration in your kitchen and eye-catching piece at your party when you'll be cutting perfect salami or dry-cured meat slices. With no electricity, no noise you'll be slicing your salami with passion.

Features: 

Handmade solid Cherry wood
Very sharp blade made from stainless steel makes 1- 1.5mm slices (approx).
The blade can be changed if ever happened it's un-sharp.