"Our Breakthrough All in One Travelling Bag Helps Solve Your Travel Headaches..."
✅ All-in-One travel bag is perfect for trips short and long
✅ Keep all of your suits and shirts crease and wrinkle-free
✅ Save money on check-in luggage                                                       
✅ Secure All Your Valuables and Money with Anti-Theft Pockets
✅ Multi-Purpose pockets and sections, all water-resistant
✅ Use as a single shoulder, backpack, casual bag or a handbag
✅ Available in both grey and black
✅ Easily use as carry-on luggage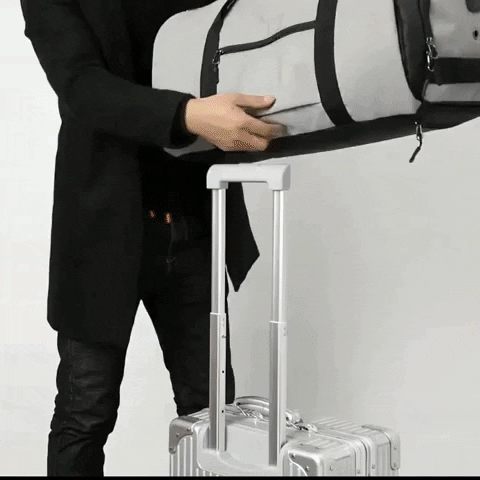 Make traveling easy and packing even easier. Keep your clothes wrinkle-free and organized your cosmetics spill-proof, and your souvenirs and documents safe with this All in One Travelling Bag…
Whether you're packing for a business trip or for your family vacation, this water-resistant travel bag is what you need.
Created with durable, lightweight, water-resistant materials, this travel bag has many multi-purpose pockets and compartments to keep your items secure.
Perfect Carry On Size: pack everything you need for your next trip in specially-designed multiple pockets and compartments - 

the size is within airlines carry on standards - 21in x 11.5in x 10.5in / 53cm x 29cm x 27cm

Stay Organised and Pack Efficiently: with multiple pockets for garments, passports, necktie, shoes, etc. its very easy to stay organized when you are traveling for a business trip or a holiday break
Stylish and Wear & Water-Resistant:

 with its highly wear, water-resistant and stylish design you can stay classy with a little bit of hood and a lot of universe in you

Keep Your Shirts / Suit Crease & Wrinkle Free: thanks to the special inner suit compartment, your garments will arrive in perfect condition
FEATURES:
Water-resistant, durable fabric
Multiple pockets and compartments
Inner suit / garment compartment 
Multi-layer storage space
Perfect carry-on size (below airline requirements) 
Size: 21in x 11.5in x 10.5in / 53cm x 29cm x 27cm
Passport / documents pocket
Dedicated shoe compartment
4 different ways of use (single shoulder, backpack, handbag or a casual bag)
Trolley attachment belt
Weight: 2.86lbs / 1.3 kg
40-liter capacity
With the All in One Travelling Bag, you'll be traveling and packing like a pro in no time. 
The only question is: where will you be heading to next?
Will You Be Travelling with a Partner?
 In Stock  
 USA orders will arrive in 7 - 12 days Business Days
 Worldwide orders will arrive in 7-14 days Business Days
---
A specifically-designed compartment for your suit. 
Designed to prevent any wrinkles and creases on your suit. 
Multiple Pockets and Compartments

Pack everything you need on your trip from clothes, belts, electronics, ties, stationery, and more. 
Large Bag Opening
Pack fast and access your valuable fast. Travel through airport security fast and simple.
Side Pockets Designed for Documents and Stationery
Designed for your passport, stationery, notebooks, and tablets. 
HSuite Case Strap
Modern and Slick Design with High-Quality Wear-Resistant Material
You won't need to buy another travel bag for years.
Perfect Cabin Luggage (Carry On Size)
Take it with you on the plane without worries.
Durable & Water-Resistant Fabric
High-quality fabric that will keep your valuables dry even when it rains or is spilled on. 
The One Bag You Need For All Your Travels
A truly All-in-One Solution and the Most Multi-Functional Travel Bag on the market.