Start Threading Needles Even With Your Eyes Closed With This Remarkable Tool!
Frustrated of having to constantly pass that flimsy thread through the eye of your needle?
Don't lick your threads ever again and automatically thread your needles with ease with the amazing Automatic Needle Threader!
Say goodbye to the frustration of having to pass your threads through your needles and let this amazing tool do all the work for you!
Start threading your needles within seconds with a quick and easy press of a button!
It's the all in one automatic threading solution that we've all been waiting for!
Start threading needles even with your eyes closed with the remarkable Automatic Needle Threader!
Compact And Extremely Durable!
Compact and extremely durable!
Made of premium quality ABS plastic material giving it amazing durability that will last for years!
It's extremely compact and features a convenient ring so you can take it with you anywhere you go!
Now you don't have to stressfully spend more time trying to thread your needles than actually sewing your clothes!
It's a perfect threading tool for both the young and the elderly!

Spend more time sewing your clothes with the amazing ultra-convenient Automatic Needle Threader!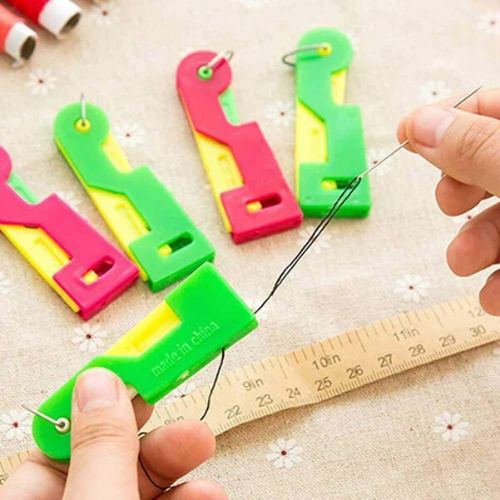 A Handy Threader For Both Beginners And Experts Alike!

Very easy to use!
Simply slide your needle through the needle hole and instantly hook your thread through the eye!
Pull out your needle and instantly get a perfectly threaded needle every time!
It's an ultra-convenient needle that will let you instantly thread your needles even with your eyes closed!
It's a handy threading solution for both beginners and experts alike!
Start threading needles instantly even with your eyes closed and get the remarkable Automatic Needle Threader now!