There is nothing like the taste of homemade corn tortillas! They taste much better and fresher than store-bought tortillas. With Our tortilla press, you can make homemade tortillas in no time.
The corn maker allows the rotis and tortillas to remain in one piece without breaking, preventing them from sticking to the dishes.
Robust aluminum alloy construction for durability and easy cleaning.
Flatten out the dough easily by just grabbing the handle to add pressure.
The aluminum arm gives great leverage for pressing your dough.
Get the freshness of a homemade tortilla without the mess. Also good for pie crusts, fondant, nuts, and more.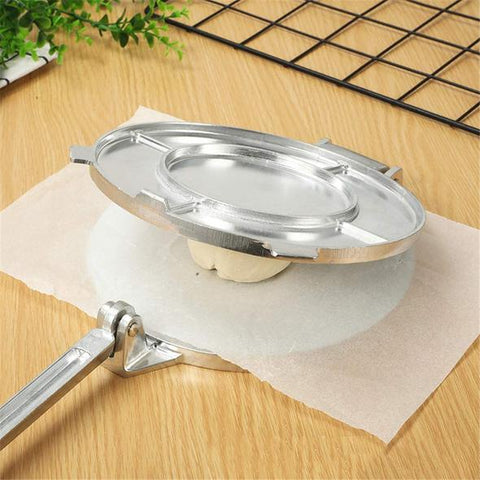 Perfect for quick food for the family and picnics, you can store the dough in the fridge and ready to go.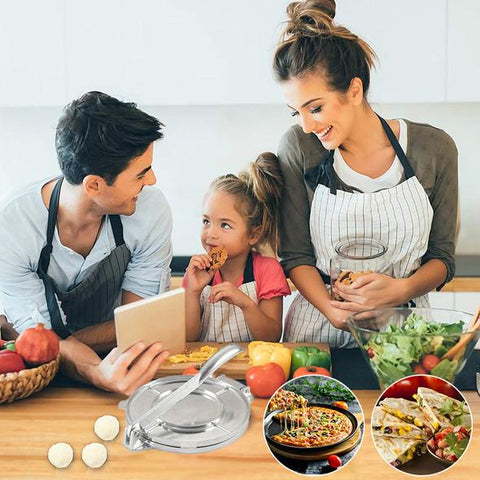 Features:
The foldable design and easy to store: Round press surface provides a flat uniform press, and the handle provides a stable press for your dough. Foldable design for easy storage and carrying.
High-quality material: Made of heavy-duty, sturdy, durable, rustproof aluminum alloy, safe, reliable, and easy to clean.
Wide range of applications: Great for making tortillas, patacones, rotis, empanadas, quesadillas, and arepas at home fast and easy. Also good for patacon es, pie crusts, fondant, nuts and more.
Easy to use: Coating is food safe and durable. Just place dough in the center of the press plate, then use the hinged lever to press down to form the perfect circular wrap.
Specifications:
Material: Aluminum
Size: 20.3cm/8" (Approx.)

Package includes:
1pc x Stainless Steel Tortilla Presser Foot With Handle