Enjoy Your Summer Without Flies & Bugs

We all love spending time outdoors on the patio, enjoying family time, having a BBQ, or going camping on the weekends. As summer approaches the only thing ruining the outdoors is annoying bugs, constantly swatting them off of our food and bodies gets old really fast. It happens year after year, but not anymore! 
THIS IS THE SOLUTION!
Stop flies & bugs from bothering us and spoiling our food throughout the summer months. This USB Fly & Bug Trapping Device is completely non-toxic and safe for anybody to use! Say goodbye to chemical sprays!

This captures any flies, fruit flies, mosquitoes and all other annoying bugs!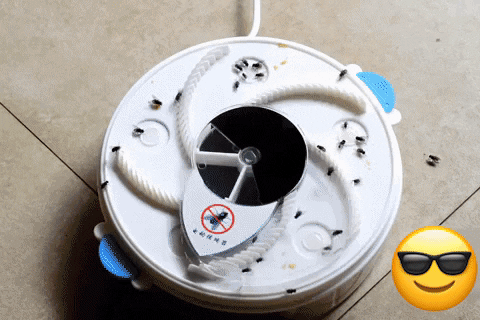 Why It Works
This USB Bug Trapping Device is a paradise for flies, mosquitoes and bugs. Using their favorite snack (sugar & water) they will have no reason to land on you or your food. We spent months creating this design and testing it in the most infested areas. We found the flies instantly go for the sugar and water over any food or human in the area. The Fly Trap is constantly rotating around the 5 individual bait traps, the rotating top includes 5 arms that swoop around the bait trap constantly gathering any flies or bugs that are enjoying their snack. It then brings them into the trap making them unable to escape. This will make even the most highly infested areas bug-free in just a matter of minutes.

There is a release for the trap container on the bottom so you can set them free somewhere else or dispose of them once they die, the choice is yours.

It works great for the Deck, Patio, Living Room, Bedroom, Trailer, and Tent.

Features:
FIVE BAIT TRAPS
If it's 100s of flies or just one that's hard to catch and annoying, the trap can capture and contain hundreds at a time. Using Sugar & Water with five bait traps, you will easily be able to clean up your kitchen or patio of any amount of bugs. 

FIVE ROTATING ARMS 
Each arm is constantly swooping past the bait traps, capturing any flies or bugs that are feeding. You might think, flies run away from me when I go to capture them - what makes this different? Considering it's in constant motion the flies will not be scared and will allow the arms to pull them into the Anti-Escape Trap.
ANTI-ESCAPE TRAP 
Once pulled in by the arms they will be unable to escape leaving the trap. They will be trapped inside until they die or you release them. The bottom has a release switch to let them go outside or dump them into the garbage once killing them.

DEHYDRATION
Once the bugs have been tricked into the trap, a dehydration process occurs, killing them.

EASY CLEAN-UP
To clean, simply push the release button then twist off the bottom of the Bug Trap and dump out the contents. 

UNIVERSAL POWER
This Electronic Bug Trap is powered with a USB connection making it easy to power anywhere around the world. Plug it in with a power block, plug it into your laptop or devices making it completely portable.

SAFE & NON-TOXIC 
No more chemical sprays and pesticides contaminating your living area. Using just sugar and water you can get rid of all those annoying bugs!